Barefoot Runners Society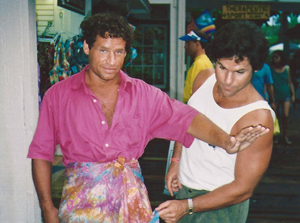 Bill Katovsky (left) and Roy Wallack in Kona at the Ironman in October 1994
Bill Katovsky 1957-2015 Long May You Run
By Dr. Mark Cucuzzella
We are deeply saddened at the recent passing of our friend and co-founder of the Natural Running Center Bill Katovsky. Yes, life can be short when you cannot get good help. Together with Minimalist Shoe aficionado and hi tech wizard Nicholas Pang we created the Natural Running Center site and FB pages:
To continue reading, please visit:...
Greenway 2020 10K
By jjb
Well, as promised, here's my humble dispatch:
Yesterday I barefooted the Greenway 2020 10K in Los Angeles. It was a mostly paved, flat course, that ran along the LA "River" in support of turning the aforementioned waterway into 50 miles of wilder, more recreationally-minded space. It began at the Ferraro Soccer Fields, coursed along the bike path, crossed Los Feliz Blvd. and doubled back along the opposite side of the concrete wash -- I mean, LA River -- and finally wended its way through Atwater Village to end at Golden Road Brewery.
At the starting line, I saw exactly
zero
other barefooters. None. Just little ol' me and my tootsies. Got some strange looks, but that was about all. I carried on my back a hydration pack that I removed the bladder from so I could carry...
The
Barefoot
Runners
Society
turned

SIX

years

old

November

1

!!!!
Happy Birthday to us! Happy Birthday to us! Happy Birthday Dear BRS! Happy Birthday to us!
And many more...
Sorry, I am late in the announcement. I had surgery and have been in and out of it since, posting here and there on the site.
He trekked 3,100 miles across the USA barefoot!!!!
You may recall that we have been sharing Jake's progress through articles and threads as he trekked across the USA. Well, he did it!!!! 3,100 miles! An amazing accomplishment, amazing "feet."
I've requested an interview with him, but if anyone has better contact info, please let me know.
We are so proud of you Jake!
https://m.facebook.com/story.php?st...52&ref=m_notif&notif_t=story_reshare&__tn__=E
Jake is on the right.
Online now: 103 (members: 3, guests: 100)
Forum Statistics
Discussions:

14,682
Messages:

158,828
Members:

6,777
User Record:

241
Latest Member: