Barefoot Runners Society
Barefoot Running Anniversary Manifesto
Since there was nothing taboo in here (you all know what I mean
) , I thought it was worthy of a repeat and some front page coverage. ~TJ
It's been one year since I have been running barefoot. Though I actually started running 3 months prior to this anniversary, this is my REAL anniversary because this is when I learned the true joy of my bare feet touching the earth.
I want to talk about the people who inspired me along this transition. Initially, I was inspired by my husband, who used to run marathons. He had told me many times about how addictive running is, and he told me, "You will become addicted." I thought, sure whatever, but he is right. He said, "Your body will CRAVE running." And it does....
Missoula Marathon
By John "stjohnthegambler" Yohe
Wow, where are we going? I'm on the shuttle bus, heading west on I-90, to the start of the Missoula Marathon. The course is point-to-point: We basically start 25 miles west of town and make our way back following the Clark Fork River Valley (The Clark Fork of the ____ River). But the ride seems really, really long. I mean, I guess twenty five miles does take a half hour, but it's an unexpected reminder that yep, a marathon is a long way.
I stumbled on this race by chance—just in town to visit my friend Jena on my way out to Portland. And, since the race wasn't sold out, I was able to sign up yesterday at the expo. And I figured, why not the full? Only costs ten more dollars than the half. The only problem being that I haven't really trained, or run, much in the last month, with being on the...
Lakeshore Miracle 10K
By Scedastic
My first race report, and only my second race (the first was a 5k a couple of weeks ago).
The course:
The Lakeshore Miracle Run 10k (I believe it's called miracle b/c it benefits the local children's hospital, NOT because it's a miracle if you can do it
)takes place near and along the eastern shores of Lake Michigan. The first mile is on a chip/seal country road, followed by a gravel road for about 0.25 mile, then the path winds through narrow, sandy, hilly trails to the beach. On the beach, the course goes north along the shore (the sand was very loose up to the water's edge, with a steep entrance to the water, so runners were single file), to a water station, then back south, to a pair of steep dunes. After the second dune descends abruptly, the course returns to the...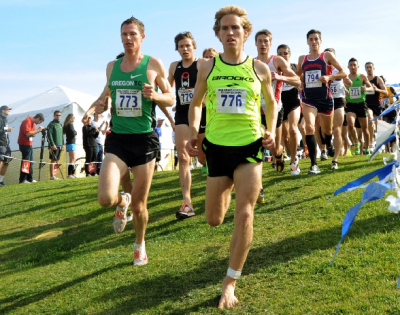 Fastest Barefoot Runner in America: Jeremy Johnson
Shared with permission from the Natural Running Center
Jeremy Johnson, a three-time All-American and two-time USA national XC team member, received his Masters of Science Degree in Applied Mathematics at the University of New Mexico in Albuquerque, New Mexico. In 2007 and 2008, he was University of New Mexico's Male Track and
 Field Athlete of the Year. His PRs are impressive: 13:35.13 for 5,000m (2010); 28:33.08 for 10,000m (2008). Academically, his post-graduate research involved computational fluid mechanics. Perhaps that kind of deep-thought immersion in the world of empirical testing and observations led him to finally question the nature of running shoes. In other words, are they really necessary for all runners, or all the time?...
Online now: 103 (members: 11, guests: 92)
Forum Statistics
Discussions:

13,872
Messages:

151,490
Members:

6,470
User Record:

241
Latest Member: