Barefoot Runners Society
Barefoot Running groups in Japan growing rapidly!
This is Barefoot Yoshi. Sorry I haven't really posted anything for Japan chapter. There are a lot going on here for barefoot community in Japan.
Now we have 3 barefoot running clubs, Tokyo, Osaka, and Fukuoka.
Tokyo has about 120 members, and now we started training with another regular running club who wants to try barefoot. So we get about 50-60 people every time. We train every Monday starting 7pm mainly at Oda Track & Field or sometime at Yoyogi Park near Harajuku station.
There is a trail event on July 1st. I just name is Barefoot party. Anyone is welcome. We run beautiful Tokyo trail (there are some beautiful trails just outside of Tokyo city). About 12-20km depending on your level. Then head to Hot spring then party!...
Cracking Achy Knee Pain or Chondromalacia Patella –
Treatment and Prevention Tips from The Barefoot Running Doctor
Knee Pain
Cracking Achy Knees or Chondromalacia Patella
Tips to treatment and prevention from Dr James Stoxen DC "The Barefoot Running Doctor." To view this discussion on Linkedin,
Click Here
...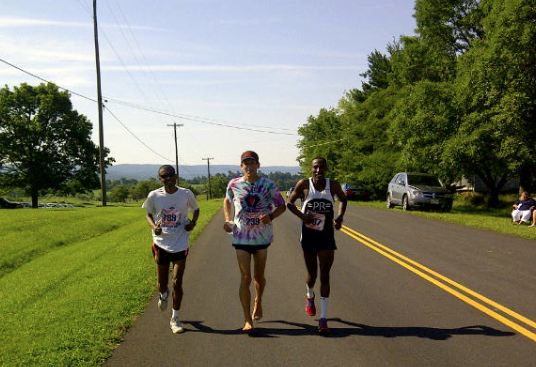 Barefoot Run Through History
A post-race friendly warm down with Ethiopian runners Kumsa (white T-shirt) and Gurmessa, who won the Annual Run Through History 10K.
***
One of my favorite places to run is
Antietam National Battlefield Park,
which is the site of the bloodiest one-day battle in American history. Over 20,000 soldiers were killed, wounded or missing after twelve hours of fierce combat on September 17, 1862. The Battle of Antietam ended the Confederate Army of Northern Virginia's first invasion into the North and led to Abraham Lincoln's issuance of the preliminary Emancipation Proclamation.
The Battlefield Park is only a few miles from my...
My first 100k - Born To Run Ultra Marathon
Photography by
Larry Gassan
- Mile 50 Heading out on my last loop.
I'm surprised he caught me with half a smile on my face
.
The DNF Banner at the Born To Run Ultramarathon had all sorts of excuses. My favorite was "I'm just a Grade-A Wussy."

And... "Puke. Puke. Puke." There were some hardcore runners out there. Some barely hanging by a thread in the middle of the night to finish 100 miles.
My post race restless sleep was interrupted...
Online now: 79 (members: 5, guests: 74)
Forum Statistics
Discussions:

13,308
Messages:

146,449
Members:

6,360
User Record:

241
Latest Member: