Barefoot Runners Society
Kutztown Fools Run 10 Miler
By JosephTree
Yesterday I ran the first of my spring tour road races, a reprise of my first race of last year's season. It was just like a miserable morning when I woke up - 36F, drizzle and no prospect for any improvement in the forecast. Fortunately, I paid no attention and had a pleasant breakfast and a leisurely drive to the race with my #1 good company, Lynn. I got signed in and warmed up without really noticing that the morning had actually gotten, if not nice, at least not so ugly by the time we were lined up to start. That meant that the drizzle had mostly abated. Good enough!
To get ready for this race I'd gone and read some books and such, so I ran a little warmup, and had a little bit of sweat going. This was a first for me, and I think it was a good thing. The air...
Running Shod More Efficient
Parts 1 & 2
By Ahcuah
Part 1:
There's been quite a bit of talk lately about a new study that came out early in the month,
Metabolic Cost of Running Barefoot versus Shod: Is Lighter Better?
, by Jason R. Franz, Corbyn M. Wierzbinski, and Rodger Kram. You can see one of the stories at
Barefoot Running Less Efficient
.
I've taken a bit of a look at the study.
The way these studies work is that they put special masks on their runners that measure both oxygen used and carbon dioxide produced. From those levels you can tell how much energy the body burned, and then comparisons can be made.
It is already generally acknowledged in the...
Class Action Suit Filed Against Vibram FiveFingers for Misleading Consumers
That Its Shoes Provide "Health Benefits of Barefoot Running"
By Bill Katovsky, Zero Drop
Berman DeValerio, one of the country's premier class action law firms focused on business litigation, has recently filed a class-action lawsuit against Vibram and Vibram FiveFingers in the U.S. District Court of Massachusetts. The complaint seeks a jury trial on the grounds that Vibram is making "false" health claims about its product. The entire legal document is reproduced below. But first a few things. Vibram isn't the first shoe company to be in the legal hot seat. Earlier this month, a Baltimore product liability lawyer filed a Skechers 'Shape-Ups' Class-Action Lawsuit that "seeks money damages for consumers who paid...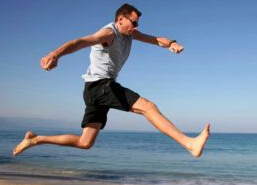 Debunking the University of Colorado Barefoot Running Study: "UnMaking" the Case for Running Shoes
From Bill Katovsky, Natural Running Center,
Commentary by Steven Sashen, Invisible Shoes
Thank you, Steven Sashen, founder of Invisible Shoes, for providing much-needed clarity on a topic that is as polarizing as health care legislation, or whether Mad Men is a better television show than Breaking Bad. Last week, New York Times health and fitness reporter Gretchen Reynolds wrote about a new barefoot vs. shod running study on the Times Well Blog. The title of her article:...
Online now: 109 (members: 11, guests: 98)
Forum Statistics
Discussions:

13,044
Messages:

143,735
Members:

6,292
User Record:

241
Latest Member: